The Case of the Man Who Died Laughing: From the Files of Vish Puri, Most Private Investigator (Vish Puri Mysteries #2)
by Tarquin Hall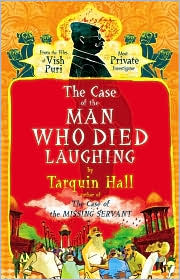 Release Date: June 15, 2010
Age Group: Adult
Publisher: Simon & Schuster
Length: 320 pages
Rating:
Murder is no laughing matter. Yet a prominent Indian scientist dies in a fit of giggles when a Hindu goddess appears from a mist and plunges a sword into his chest. The only one laughing now is the main suspect, a powerful guru named Maharaj Swami, who seems to have done away with his most vocal critic. Vish Puri, India's Most Private Investigator, master of disguise and lover of all things fried and spicy, doesn't believe the murder is a supernatural occurrence, and proving who really killed Dr. Suresh Jha will require all the detective's earthly faculties. To get at the truth, he and his team of undercover operatives—Facecream, Tubelight, and Flush—travel from the slum where India's hereditary magicians must be persuaded to reveal their secrets to the holy city of Haridwar on the Ganges. How did the murder weapon miraculously crumble into ash? Will Maharaj Swami have the last laugh? And perhaps more important, why is Puri's wife, Rumpi, chasing petty criminals with his Mummy-ji when she should be at home making his rotis?

Stopping only to indulge his ample Punjabi appetite, Puri uncovers a web of spirituality, science, and sin unique in the annals of crime. (from publisher)

This book was so much fun to read. The mystery was beautifully put together with a cast of quirky and fun characters, and the way it all fit was perfect--I didn't see it coming but it was understandable all the same. Sometimes, what I want to read is a fun and entertaining mystery story, and this book fit that to a tee.
The characters are what made this book so good, I think. Instead of being a simple mystery story--which isn't necessary bad, of course--
The Case of the Man Who Died Laughing
made me invested as much in the characters as in the actual mystery. They had back story and fun little things that made them entirely unique.
I liked the information about the gurus in India as well. The whole industry has always been interesting to me, and I liked finding out more about it. And the illusions, of course, are always fun to dissect. I was always that person who, while at a magic show, was constantly trying to figure out the trick instead of going along for the ride. So, the inner workings of seeming impossibilities was a lot of fun.
This was a quick, light read that I would recommend to any mystery lover. It wasn't the most emotionally satisfying read, but sometimes it's exactly what you're looking for at a certain time.
Amazon
~
Barnes and Noble
~
Goodreads