The Lost City of Z: A Tale of Deadly Obsession in the Amazon
by David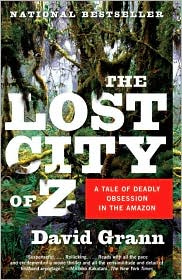 Grann
Release Date: February 24, 2009
Age Group: Adult
Publisher: Doubleday
Length: 352 pages
Rating:
After stumbling upon a hidden trove of diaries, acclaimed New Yorker writer David Grann set out to solve "the greatest exploration mystery of the twentieth century": what happened to the British explorer Percy Fawcett and his quest for the Lost City of Z? In 1925, Fawcett ventured into the Amazon to find an ancient civilization, hoping to make one of the most important discoveries in history, but he and his expedition vanished. For decades, scientists and adventurers have searched for evidence of Fawcett's party and the lost City of Z. David Grann's quest for the truth and his stunning discoveries about Fawcett's fate and "Z" form the heart of this complex, enthralling narrative. (from Barnes and Noble)

I'd never heard of Percy Fawcett before picking up this book, so I wasn't familiar with any of the material ahead of time. It was exciting to go in that way, knowing nothing about Victorian age exploration and so discovering things as the author showed them to me, and it was really well set up for people with minimal background knowledge on the topic. I never felt lost in the heaps of information required to truly understand the time period, a problem which could have easily occurred.
The book was a little long for the information in it. The biographical account of Percy Fawcett's life got a bit dry after a couple hundred pages, and then there was more to get through. And some of it could have been taken out, in my opinion, while still maintaining the flavor of Fawcett's life and personality.
I also expected something totally different when I went in to the book. The narrative was was an interesting and informative book about the life of Percy Fawcett, yes, but it didn't go beyond that into an adventure story in the Amazon. I went into the book expecting more of an story about how the author went looking for him, and that didn't happen until the very end of the book. Even then it wasn't at the forefront of the story, nor was it much of an adventure. However, I still did enjoy reading about the expeditions and about Fawcett himself. He had a very interesting personality and a very interesting life, and this book did an excellent job of exploring that.
Amazon
***
Barnes and Noble
***
Goodreads